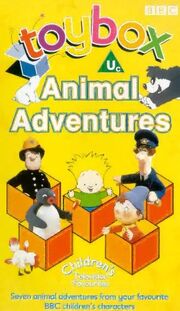 BBC Toybox Animal Adventures VHS 2000 is a video compilation containing various children's programmes from the BBC. It was released on September 4th, 2000.
Postman Pat: The Sheep in the Clover Field
William's Wish Wellingtons: William and Barksure
Pingu and the Game of Fish
Spider: Frog Change
Noddy Meets Some Silly Hens
Little Polar Bear: The Snow Storm
Fireman Sam: Lost Cat
The title logo and footage of "Postman Pat The Sheep in the Clover field" previously featured on the 1992 edition of Postman Pat 1 and the Postman Pat 2 on 1 video release in BBC Toybox Animal Adventures 1996.