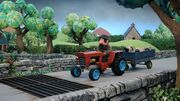 The Red Tractor
was mainly driven by
Peter Fogg
in the original series. It later became
Alf Thompson
's main tractor from Season 3 onwards. Alf did however drive it once before this in the Season 1 episode
Postman Pat's Foggy Day
.
It has a bulldozer blade, which is used to shift landslides and heavy drifts of snow. It also has a winch on the back for using attachments like the log lifter from Postman Pat's Windy Day.
The plating covering its engine is painted red and so is its seat and driving wheel arches. It also has blue hub caps.
The Red Tractor did not have head lights until "Postman Pat's Foggy Day".
It won second place in the Great Greendale Race.
After the second season, its exhaust pipe was removed.
Ad blocker interference detected!
Wikia is a free-to-use site that makes money from advertising. We have a modified experience for viewers using ad blockers

Wikia is not accessible if you've made further modifications. Remove the custom ad blocker rule(s) and the page will load as expected.