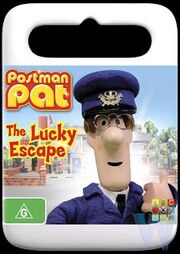 The Lucky Escape is an Australian DVD release. It contains two fourth season episodes and four from the fifth season. It was released on 4th August, 2011.
Postman Pat and the Record Breaking Day
Postman Pat and the Lucky Escape
Postman Pat and the Bollywood Dance
Postman Pat and the Stolen Strawberries
Postman Pat and the Pot of Gold
Postman Pat and the Fantastic Feast
The Pencaster Sorting Office is in the background of the front cover even though it does not feature in any of the episodes.
Ad blocker interference detected!
Wikia is a free-to-use site that makes money from advertising. We have a modified experience for viewers using ad blockers

Wikia is not accessible if you've made further modifications. Remove the custom ad blocker rule(s) and the page will load as expected.