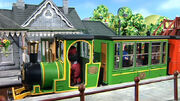 The Greendale Rocket
is a Shelling Marchant J27 steam train driven by
Ajay Bains
. The train consists of 4-4-2 tank engine (2-6-4 in
the Movie
), which often pulls passenger carriages and sometimes a mail truck for
Pat
.
The engine's body work is painted green with yellow stripes. It has green wheels and side rods, yellow buffer beams, a jet black smoke box and a brass funnel and steam dome. Its name is engraved onto a brass plate, which has been bolted onto its smoke box door. It also has another brass plate engraved with the letters G. R. on both sides of its coal bunker. The train's carriages have also been painted in the same colour scheme as the locomotive and also have the G. R. brass plates fixed to their sides.
The Greendale Rocket appears to be of a freelance design and is likely to be a well tank engine as it lacks any tanks on its boiler, though it does bear some resemblance to a LSWR 415 Class
In the television series, the Greendale Rocket has only ever been known to pull one passenger carriage and a mail truck, but in the movie, we see that it is able to pull more than that.