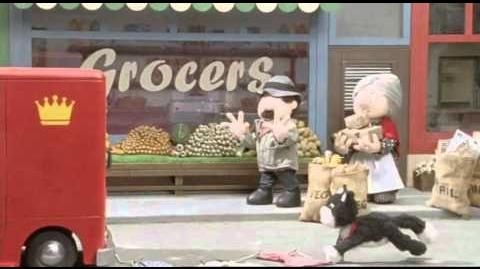 The Postman Pat 
Specsavers Advert
 is an advert by British opticians Specsavers that was launched in September 2009.
Postman Pat is delivering the parcels as usual when he accidentally sits on his only pair of glasses, breaking them. Believing he can still deliver the post without any trouble and declaring that 'duty calls', he starts up his van and heads off on his round. Unusually, because his vision is affected, he turns right on the left turn and crashes into Miss Hubbard's garden, collecting her washed clothes in the process.
Then, Pat makes even bigger mistakes, delivering vegetables instead of mail and posting them through Reverend Timms' front door. He then smashes into the road sign and wreaks more havoc as P.C. Selby tells him that he 'should have gone to Specsavers'.
Characters
Edit
This advert was filmed in the style of the first and second seasons, with the characters having static mouths and using the films cameras that the production team would have used in that period.
This is the noting of Greendale's greengrocer's.
Miss Hubbard makes her first appearance since Season 2.
Reverend Timms has a different voice in this advert.
Pat's van has been redesigned; it features a single golden crown (like the crest briefly used in series 1) on its sides instead of the Royal Mail logo, the number plate reads MAIL 1 instead of PAT 1, there are side skirts, and it has round wing mirrors instead of rectangle ones.
The advert featured the current voice cast of the time.
Despite not having a speaking role in the short version, Mrs. Goggins actually has a speaking role in the extended version: she says "Oh dear!".