Scottish Highland Cattle
Residence:
Greendale
Breed:
Red Highland Cattle/Aberdeen Angus Cattle
Owners:
Julia Pottage
Alf Thompson
Scottish Highland Cattle are a very popular choice of live stock for the farmers in Greendale, particually the red breed. Sometimes they can get quite homesick for their old scottich homes, so they are always happy to hear the sound of bagpipes being played for them.
Daisy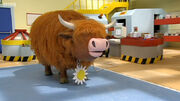 Daisy
is one of
Alf Thompson
's highland cows, which he order with the Special Delivery Service. She was meant to be transported by
PAT 2
, but she ran away and got stuck on the cliff edge of
Greendale Crag
, so
Pat
and
Amy
had to rescue her with 
PAT 3
.
Appearance
She appears as most red Highland Cattle, but has collar with a daisy crest attached.
Appearances
Trivia
She was Pat's first special delivery.
Gallery
Ad blocker interference detected!
Wikia is a free-to-use site that makes money from advertising. We have a modified experience for viewers using ad blockers

Wikia is not accessible if you've made further modifications. Remove the custom ad blocker rule(s) and the page will load as expected.