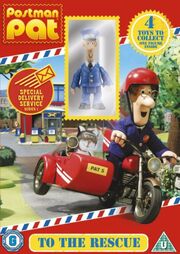 Postman Pat to the Rescue is a UK and AUS DVD release containing six sixth season episodes. It was released in the UK on March 16th, 2009.
Big Balloons
Bernie the Parrot
The Red Rocket
A Wobbly Piano
A Bouncy Castle
A Surprise
Match the Parcel
DVD ROM Activities
Some releases have come with a free figure of Pat.
Ad blocker interference detected!
Wikia is a free-to-use site that makes money from advertising. We have a modified experience for viewers using ad blockers

Wikia is not accessible if you've made further modifications. Remove the custom ad blocker rule(s) and the page will load as expected.