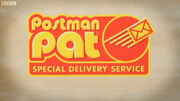 Postman Pat Special Delivery Service is the second spin-off season which is set in both Greendale and Pencaster. Ben Taylor and his family first appear in this series. In this show, when a Special Delivery comes to the sorting office in Pencaster, Ben telephones Pat on the mobile phone to come down and deliver it in one of the many special vehicles the SDS has for him.
Season 6
Season 7
Season 8
Mr. Pringle and the Pottage family do not appear in this series.
Lauren Taylor is now the school teacher, replacing Mr. Pringle.
This series also sees the introduction of Michael Lam.
Lewis MacLeod has replaced Ken Barrie in the role of Pat, while Ken still continued to voice Alf Thompson, Ted Glen, P.C Selby and the Reverend Timms in Season 6.
Ad blocker interference detected!
Wikia is a free-to-use site that makes money from advertising. We have a modified experience for viewers using ad blockers

Wikia is not accessible if you've made further modifications. Remove the custom ad blocker rule(s) and the page will load as expected.