"Special Delivery Service" redirects here. For the service, see Special Delivery Service. For the show, see Postman Pat.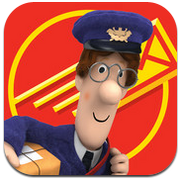 Postman Pat SDS is an iOS app developed by P2 Games Limited. The app costs £1.99 on the App Store. The game requires iOS 3.2 or later, and has a rating of 4+.
Postman Pat SDS has 8 games - "Thompson Farm", "Gift Giving", "SDS Flying Delivery", "Ben's Sorting Office", "Pencaster Trains", "Ted Glen's Garage", "Post Box Run" and "Whose Parcel?". It also includes a special bonus game in which you can make pictures and fix puzzles from stamps collected whilst playing the main games.
The app has multiple different difficulty levels to cater for different ages.
In-game achievements link to Apple's Game Centre.
External links
Edit