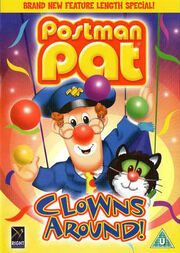 Postman Pat Clowns Around is a UK and AUS home video release. It contains one twenty-five minute special and two episodes from Season 3. It was released on VHS and DVD in the UK on April 5th 2004.
Released Date
Edit
UK VHS/DVD Release: April 5, 2004
Australian DVD Release: Wednesday March 7, 2007 (R-106916-9)
Ad blocker interference detected!
Wikia is a free-to-use site that makes money from advertising. We have a modified experience for viewers using ad blockers

Wikia is not accessible if you've made further modifications. Remove the custom ad blocker rule(s) and the page will load as expected.