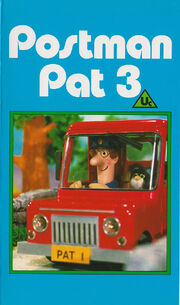 Postman Pat 3
is a VHS release of Postman Pat. It was released on 3rd November 1986 (the same date as
Postman Pat 1
and
Postman Pat 2
) by BBC Video, and was re-released in 1999 on
Postman Pat - More Adventures From Pat And His Friends
.
The third and final Postman Pat video that were released on the same day as the first two volumes to feature the BBC Video 1981-1988 Ident.
The videocover of Postman Pat 3 got new packaging for a re-released edition in 1992 (to which the boarder round the image on that cover was dark blue instead of green).
The tape of Postman Pat 3 got repackaged in 1993 with the BBC Video 1991-1997 Ident, a BBC Video slide with four other Postman Pat titles that are also available and different footage for the episodes (with title logos at the start of each episode) on that video.
Ad blocker interference detected!
Wikia is a free-to-use site that makes money from advertising. We have a modified experience for viewers using ad blockers

Wikia is not accessible if you've made further modifications. Remove the custom ad blocker rule(s) and the page will load as expected.