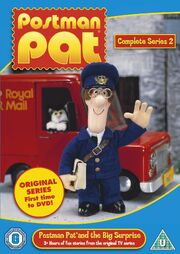 Postman Pat: Complete Series 2 - Postman Pat's Big Surprise
 is a DVD featuring all the episodes from
Season 2
. It was being released on 3rd February 2014.
It contains the 2003 to 2006 music on the intro, and the 'Postman, Postman Pat, Can you guess what's in his bag' song at the end theme from 2003 to 2006. Same pictures and Same credits from the original 1996 episodes.
Ad blocker interference detected!
Wikia is a free-to-use site that makes money from advertising. We have a modified experience for viewers using ad blockers

Wikia is not accessible if you've made further modifications. Remove the custom ad blocker rule(s) and the page will load as expected.