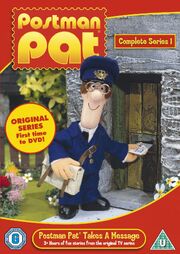 Postman Pat: Series 1 - Postman Pat Takes a Message
is a DVD containing all the episodes from
Season 1
. It was released on 3rd February 2014. 
The opening titles are used with the Season 2 intro and the 2003-2006 theme at the start of each episode on this DVD.
Each episode on this DVD ends with remade credits and the Season 2 outro scenes with the "What's In His Bag" ending song of 2003-2006.
The footage of these classic episodes on this DVD have restored footage from the early 2000's re-runs of Postman Pat since the 20th anniversary of Postman Pat in 2001.
As the intro of Season 2 is on this DVD with the 2003-2006 theme to Postman Pat. Carole Boyd is credited as the main voice actor with Ken Barrie. but Carole Boyd didn't actually narrate the female characters and children's voices in these 13 episodes because they were all Season 1 episodes where all women, men and kids of Greendale were voiced by Ken Barrie.
"Postman Pat's Birthday" on the episode selection on the dvd menu is mistakenly called "Postman Pat's Secret". 
Ad blocker interference detected!
Wikia is a free-to-use site that makes money from advertising. We have a modified experience for viewers using ad blockers

Wikia is not accessible if you've made further modifications. Remove the custom ad blocker rule(s) and the page will load as expected.