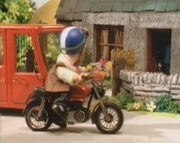 Peter Fogg's Motorbike
is
Peter Fogg
's own mode of transport outside his work time at
Greendale Farm
where drives the tractors.
It was first used for Postman Pat in Postman Pat takes the Bus, but the model was first seen in the Ivor Wood Production, "Gran". Coincidently, it was driven by Peter Fogg's model which was being used as the character of Alf the Butcher.
In season 3 it was re-used as Ajay Bains' motorbike and possibly as PAT 5 in season 6.
It seems to be based on a Francis Barnett Falcon 150.
Ad blocker interference detected!
Wikia is a free-to-use site that makes money from advertising. We have a modified experience for viewers using ad blockers

Wikia is not accessible if you've made further modifications. Remove the custom ad blocker rule(s) and the page will load as expected.