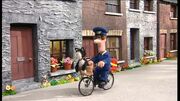 Pat's Bicycle
is sometimes used by
Pat
on special occasisions.
Pat once rode his bike to the post office on the day when the post bus first got put into operation.
In Postman Pat Goes Football Crazy, Pat rode it whilst on his rounds to get fit for the football match on the Green.
Ad blocker interference detected!
Wikia is a free-to-use site that makes money from advertising. We have a modified experience for viewers using ad blockers

Wikia is not accessible if you've made further modifications. Remove the custom ad blocker rule(s) and the page will load as expected.