This article is about the Special Delivery Service vehicle. For the vehicle which was formally the post bus and is now a school bus, see SCHOOL1.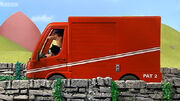 PAT 2
is the registration of a big van owned by the Special Delivery Service in
Pencaster
. Pat uses it to deliver many of his bigger special deliveries by road.
It is painted in Special Delivery Service red with lining.  
Merchandise
Edit
It is both electricity and solar powered.
Ad blocker interference detected!
Wikia is a free-to-use site that makes money from advertising. We have a modified experience for viewers using ad blockers

Wikia is not accessible if you've made further modifications. Remove the custom ad blocker rule(s) and the page will load as expected.