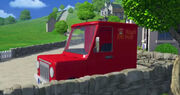 PAT 1
is a bright red van that Postman Pat always drives on his rounds. It has the Royal Mail logo on its sides.
It is likely to be based on an LDV Sherpa.
The SDS Mini Van has the same body as this van.
Several merchandises of the van have been released, including toys, coin operated kiddie rides and even bags.

The kiddie rides based on this vehicle are made by three former kiddie ride companies OMC Electronics (1992), Mitchells Children's Rides (1997) and Fun2Learn (2007).

The official Royal Mail logo did not appear on its side in the Television Series until episode 8.
In the movie, it has GB driving licences, but still has PAT 1 on them.
Merchandise
Edit
Ad blocker interference detected!
Wikia is a free-to-use site that makes money from advertising. We have a modified experience for viewers using ad blockers

Wikia is not accessible if you've made further modifications. Remove the custom ad blocker rule(s) and the page will load as expected.