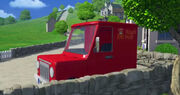 PAT 1
is a bright red van that Postman Pat always drives on his rounds. It has the Royal Mail logo on its sides.
It is likely to be based on a 1980 Lambretta William Voiturette van.
The SDS Mini Van has the same body as this van.
The sounds used for the van are recordings of a 1922 Morris Bullnose Cowley, which can be found in the BBC Sound Effects Library.
Several merchandises of the van have been released, including toys, coin operated kiddie rides and even bags.

The kiddie rides based on this vehicle are made by three former kiddie ride companies OMC Electronics (1992), Mitchells Children's Rides (1997) and Fun2Learn (2007).

The official Royal Mail logo did not appear on its side in the Television Series until episode 8.
In the movie, it has GB driving licences, but still has PAT 1 on them.
The OMC Postman Pat Kiddie ride with a door and a coinbox outside appeared in the "Mr Bean" episode, "Mind the Baby".
Merchandise
Edit