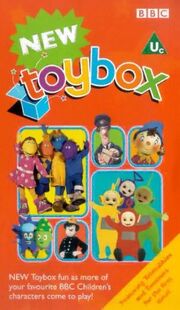 New Toybox is video compilation containing various children's programmes from the BBC. It was released on August 13th, 2001.
Tweenies: Have Fun with Dot-to-Dots
Postman Pat Has the Best Village
Teletubbies: Happy Days
Fireman Sam: Quarry Rescue
Yoho Ahoy: Chairs with Grog
Noddy and the Driving Lesson
This is the final Toybox compilation and BBC compilation to feature Postman Pat.
The title card and footage for Postman Pat has the Best Village was previously used in the Postman Pat Has Too Many Parcels video.