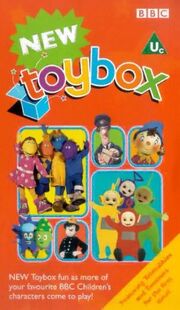 New Toybox is video compilation containing various children's programmes from the BBC. It was released on August 13th, 2001.
The Tweenies: Tweenies Have Fun with Dot-to-Dots:Its raining and the Tweenies have nothing to do! but then Fizz has an idea! they have fun doing dot-to-dots! but suddenly they are transported to the land of dot-to-dots! but then they only have one mission:escape the land of dot-to-dots and get back home!
Postman Pat: Postman Pat Has the Best Village;Its the day of the best village competion and Postman Pat can't wait to win but when he has trouble winning first prize,will things get any better?
The Teletubbies: Happy Days:Its a sunny day in teletubbyland and the Teletubbies are playing happy days but they can't stop saying 'happy' again and again!
Fireman Sam: Quarry Rescue:Sarah and james are blackberry picking near an old quarry,when suddenly james slips,the Pontypandy fire service must carry out a dramatic rock face rescue...
Yoho Ahoy: Chairs with Grog:the Yohos are playing musical chairs on the rubber duck except for grog who is not playing,but suddenly Grog and Cutlass break the chair and they become the winners!
Noddy's Toyland Adventures: Noddy and the Driving Lesson: after a nice evening in Toyland Noddy gives Clockwork mouse a driving lesson which is fun but suddenly they zoom through Toyland and then the goblins steal Noddy's car, but then Noddy has one mission: to get his car back from the goblins!
This is the final Toybox compilation and BBC compilation to feature Postman Pat.
The title card and footage for Postman Pat has the Best Village was previously used in the Postman Pat Has Too Many Parcels video.
Ad blocker interference detected!
Wikia is a free-to-use site that makes money from advertising. We have a modified experience for viewers using ad blockers

Wikia is not accessible if you've made further modifications. Remove the custom ad blocker rule(s) and the page will load as expected.