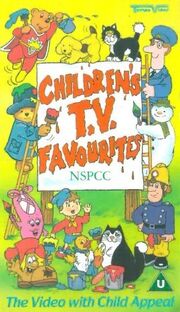 NSPCC Children's TV Favourites is a 1987 children's compilation video released by Tempo Video with ten children's characters. It was re-released by Abbey Home Entertainment Distribution in the 1990.
The Shoe People: Can You Keep A Secret?
Paddington Bear: Please Look After This Bear
Fireman Sam: The Kite
James the Cat: Friends
Noddy: The Great Car Race
Wil Cwac Cwac: Honey
"The Snowman's Ball" (an excerpt from The Snowman)
SuperTed and The Stolen Rocket Ship
Spot: Where's Spot
The original 1987 cover of this video showed Jess with a worried face and the 1990 repackaged cover showed Jess with a happy face.
The footage of Postman Pat's Birthday had previously appeared on the St Michael video release of Postman Pat in 1986.
Ad blocker interference detected!
Wikia is a free-to-use site that makes money from advertising. We have a modified experience for viewers using ad blockers

Wikia is not accessible if you've made further modifications. Remove the custom ad blocker rule(s) and the page will load as expected.