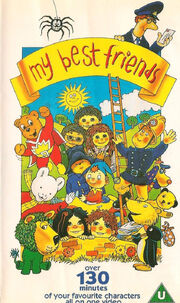 My Best Friends
is a children's compilation video.
Noddy's Toyland Adventures - Noddy's New Friend
Rupert - Rupert and the Knight
Rosie and Jim - Automata
The Herbs - The Chives Catch Cold
Fireman Sam: Brass Band
Revolting Rhymes - Goldilocks and the Three Bears
Astro Farm - Astro Dragon
Spider! - Spider comes to Stay
Super Ted - Super Ted Kicks up Dust
Pingu - Pingu's Circus
Paddington - Do it Yourself
The Sooty Show - A-Z of Animals
Tots TV - Camel
Ad blocker interference detected!
Wikia is a free-to-use site that makes money from advertising. We have a modified experience for viewers using ad blockers

Wikia is not accessible if you've made further modifications. Remove the custom ad blocker rule(s) and the page will load as expected.