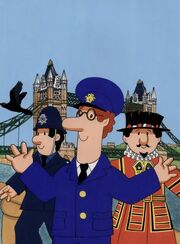 London
is the captial city of England.
Granny Dryden's daughter Sally lives in the city with her family.
When The Reverend Timms's sister Elsie came over to visit from Australia, she was meant to land in London and the Reverend would meet her there. However Elsie's flight got diverted to Manchester, so Pat was sent on a wild goose chase to tell reverend not to go to London after all.
When Pat made it onto the "You're the One" television show, the finals were held in London.