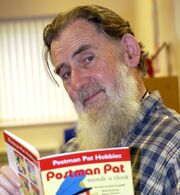 John Cunliffe
 (born in Colne, Lancashire, England, UK, June 16th, 1933) is the creator of
Postman Pat
.
John Cunliffe wrote the original Postman Pat books and television series episodes. After the success of Postman Pat, John went on to co-write and present the first two seasons of "Rosie and Jim". Not long ago, he released one of his independent stories about Ghosts to IPad.
Episodes Written
Edit
Ad blocker interference detected!
Wikia is a free-to-use site that makes money from advertising. We have a modified experience for viewers using ad blockers

Wikia is not accessible if you've made further modifications. Remove the custom ad blocker rule(s) and the page will load as expected.