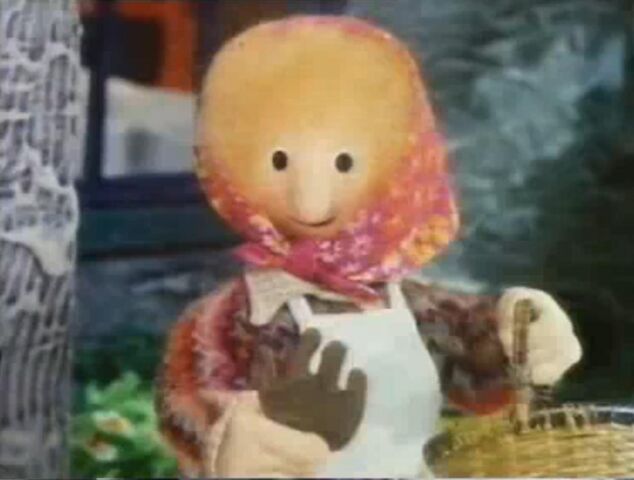 Postman Pat- Dorothy Thompson played by Stacey McCollum
Dorothy Thompson - First Appearance; 19 February 1984
---
Description about Dorothy Thompson ;
dangerous
hostile
anxious
depressive
emotional
Key Dates;
19 Feb 1984- Befriending Sandy Rickman in the pub before arriving to the village.
7 Apr 1986- Leaving Greendale to see her family.
3 Mar 1989- Returning back to the village with her brother Terrence and her mum and dad.
11 Apr 1989- Was pleased to have Terrence back as her brother.
11 Jul 1989- Was shocked to discover that Terrence and Pat rowing about her.
22 Jan 1990- Walking with Terrence to the pub to find Pat who had been befriending her about life.
11 Apr 1990- Discovering that her brother Terrence had been murdered at her home by gangsters.
12 Apr 1990- Accusing Major of killing her brother when she went to his house.
23 Apr 1990- Accusing Pat of killing her brother because she thinks he's jealous of Terrence.
18 May 1990- Threatening Pat about her brother's death.
12 Jun 1990- Being told by Major Forbes that he deserved that to wind up Pat.
6 Jul 1990- Being comforted by Mrs Goggins due to above her brother's death.
25 Jul 1990- Trying to dig up her brother's body in the woods after telling her neighbours.
30 Jul 1990- Accusing Pat twice of killing her brother at night.
14 Aug 1990- Trying to tell everyone in the pub that Pat killed her brother.
2 Sep 1990- Missing her brother so deeply at her home.
19 Jan 1991- Being unhappy about her brother's murder.
10 Feb 1991- Was threatened by Major to keep her mouth shut.
26 Mar 2007- Was held hostage by Pat in the wooden hut.
17 May 2007- Was blackmailing Bill by telling Alf that he cheated on her with another girl.
21 May 2007- Bashed Pat's head on the wooden hut that nearly causes him to have brain damage, but then was hit on the head by Bill Thompson.
22 May 2007- Was discovered that she hit Bill and then tried to start hitting him again, but Alf kept her away from her, then she threatens Pat, Bill, Arthur and Alf by screaming You will all suffer for this and then banged Alf on the head.
15 Jun 2007- Having a huge suitation between her and Bill at Thompson Ground
19 Jun 2007- Was held hostage to her bed by Bill, Pat and Alf, then Alf helped her escape.
6 Jul 2007- Was excluded from Thompson Ground , but then got arrested and was sent to a mental insitution.
5 Dec 2011- Returning back to Thompson Ground with her kids, Charlie, Megan and Sonya.
Dorothy's Choice of Music;
Brian McFadden- Real To Me; Keeping her calm and happy
Dorothy's friends;
Luke
Natasha Richardson
Shelley Rickman
Sandy Rickman
Adam
Love Interest;
Alf Thompson
File history
Click on a date/time to view the file as it appeared at that time.
Ad blocker interference detected!
Wikia is a free-to-use site that makes money from advertising. We have a modified experience for viewers using ad blockers

Wikia is not accessible if you've made further modifications. Remove the custom ad blocker rule(s) and the page will load as expected.