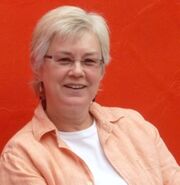 Elly Brewer
was a writer for
Postman Pat
. She has written for other shows like "Home Farm Twins", "M.I.High" and "Shaun the Sheep" and also worked on all television shows connected to the "Tracy Beaker" series: "The Story of Tracy Beaker", "Tracey Beaker Returns" and "The Dumping Ground" (she was also the series' story consultant for the latter series).
Postman Pat's Big Boat Adventure
Postman Pat and the Greendale Rocket (additional material)
Ad blocker interference detected!
Wikia is a free-to-use site that makes money from advertising. We have a modified experience for viewers using ad blockers

Wikia is not accessible if you've made further modifications. Remove the custom ad blocker rule(s) and the page will load as expected.