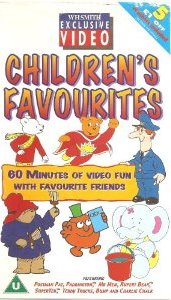 Children's Favourites was a VHS release containing various children's programmes, exclusively released from W.H.Smith.
Postman Pat - Postman Pat's Three Wishes (Taken from Read Along with Postman Pat)
Teddy Trucks - Boss Bear's Boat
Charlie Chalk - Shipwrecked Charlie (Excerpt)
Paddington Bear - Alphabet Treasure Hunt (Excerpt)
SuperTed - SuperTed and Mother Nature
Mr. Men ABC - The Great Alphabet Hunt (Excerpt)
Bump - Auntie Doreen's Surprise
Rupert Bear - Rupert and the Pirates (Excerpt)
Ad blocker interference detected!
Wikia is a free-to-use site that makes money from advertising. We have a modified experience for viewers using ad blockers

Wikia is not accessible if you've made further modifications. Remove the custom ad blocker rule(s) and the page will load as expected.