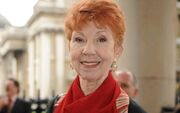 Carole Boyd
(born in February 16th, 1941) has been doing voices for Postman Pat since 1991. She probably best known for playing Lynda Snell in "The Archers" on BBC Radio 4.
Characters
Edit
Ad blocker interference detected!
Wikia is a free-to-use site that makes money from advertising. We have a modified experience for viewers using ad blockers

Wikia is not accessible if you've made further modifications. Remove the custom ad blocker rule(s) and the page will load as expected.