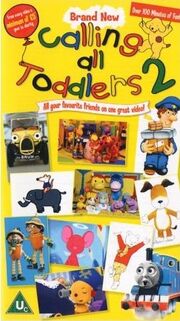 Calling All Toddlers 2
 is a video compilation of various children's programmes. It was released on 12th August 2002.
The Tweenies Fizz's Scrapbook
Spot Spot's Band
Postman Pat Has The Best Village
Rolie Polie Olie Pappy's Boat
Brum and the Airport Adventure
MacDonald's Farm Springtime on the Farm
Thomas the Tank Engine and Friends Thomas`s Train
Maisy Mouse Train
Angelmouse Copycat Chick
Bill & Ben The Big Sleep
Kipper - The Key
Rupert Bear We All Stand Together
The music used during the opening titles of the video comes from Sooty's Amazing Adventures which is not part of this release.
The information on the inside cover of this video says that Postman Pat has the Best Village is copyrighted by Woodland Animations Ltd 2002. But that episode was made in 1996.
Ad blocker interference detected!
Wikia is a free-to-use site that makes money from advertising. We have a modified experience for viewers using ad blockers

Wikia is not accessible if you've made further modifications. Remove the custom ad blocker rule(s) and the page will load as expected.