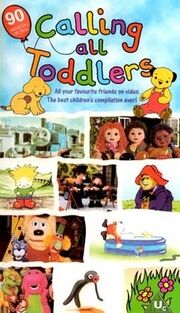 Calling All Toddlers is a video compilation of various children's programmes. It was released in 1999.
"Kipper: The Paddling Pool"
"William's Wish Wellingtons: William the Conkeror"
"Pingu Goes Cross Country"
"Tots TV: Super Tiny"
"Fun Song Factory and the Colours"
"Spot: Spot Stays Overnight"
"Paddington Goes Underground"
"Thomas the Tank Engine: Thomas's Train"
"Sooty's Amazing Adventures: Scampi and the Computer Chips"
"Barney's Musical Scrapbook"