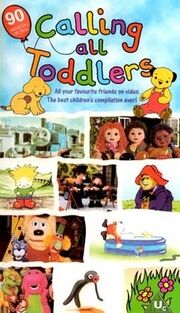 Calling All Toddlers is a video compilation of various children's programmes. It was released in 1999.
"Kipper and the Paddling Pool"
"William the Conkeror"
"Pingu Goes Cross Country"
"Tots TV's Super Tiny"
"Fun Song Factory and the Colours"
"Spot Stays Overnight"
"Paddington Goes Underground"
"Thomas the Tank Engine, Thomas's Train"
"Sooty, Scampi and the Computer Chips"
"Barney's Musical Scrapbook"
"Noddy the Champion"
Ad blocker interference detected!
Wikia is a free-to-use site that makes money from advertising. We have a modified experience for viewers using ad blockers

Wikia is not accessible if you've made further modifications. Remove the custom ad blocker rule(s) and the page will load as expected.