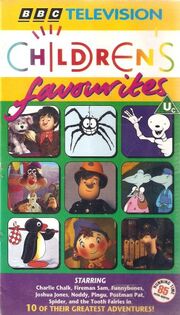 BBC Television - Children's Favourites
is a compilation video containing various children's programmes from the
BBC
. It was released on 6th September 1993.
Noddy's Toyland Adventures: Noddy and the Broken Bicycle
Pingu: Pingu and Pinga at Home
Funnybones: The Pet Shop
Spider!: Just a Spider
Joshua Jones: Haywire
Tales of the Tooth Fairies: The Stolen Present
Fireman Sam: Bentley the Robot
Pingu: Pingu Goes Fishing
Charlie Chalk: Arnold's Night Out
Ad blocker interference detected!
Wikia is a free-to-use site that makes money from advertising. We have a modified experience for viewers using ad blockers

Wikia is not accessible if you've made further modifications. Remove the custom ad blocker rule(s) and the page will load as expected.