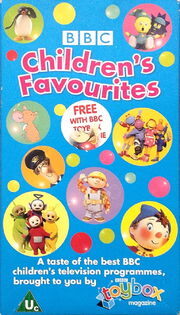 BBC Children's Favourites
 is a compilation video cassette released with an issue of the Toybox Magazine.
Teletubbies Teletubbies (A clip of a "Twisty Dance")
Bob the Builder Bob the Builder (Excerpt from Mucky Muck)
Tweenies Tweenies (Excerpt clips: "I Like to Be a Bubble" and "Woolly Jumper")
Yoho Ahoy Yoho Ahoy: Mops with Poop
Angelmouse (Excerpt from My Friend Angelmouse)
Noddy's Toyland Adventures (Excerpt from 'Noddy and the Magic Night)
Postman Pat (Excerpt from Postman Pat Has Too Many Parcles
Fireman Sam (Excerpt from Telly Trouble)
Pingu (Excerpt from Pingu And The Lost Ball
Ad blocker interference detected!
Wikia is a free-to-use site that makes money from advertising. We have a modified experience for viewers using ad blockers

Wikia is not accessible if you've made further modifications. Remove the custom ad blocker rule(s) and the page will load as expected.