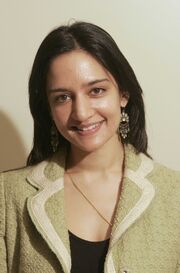 Archie Panjabi
is an actress who was born in Edgware, Middlesex, England, UK, May 31st, 1972. She became a voice for Postman Pat when it returned in 2003.
She starred alongside Parminder Nagra (Nisha Bains in Postman Pat the Movie) and Kulvinder Ghir in the 2002 film "Bend It Like Beckham". Parminder Nagra was Archie Panjabi's screen sister in the aforementioned film.
Ad blocker interference detected!
Wikia is a free-to-use site that makes money from advertising. We have a modified experience for viewers using ad blockers

Wikia is not accessible if you've made further modifications. Remove the custom ad blocker rule(s) and the page will load as expected.